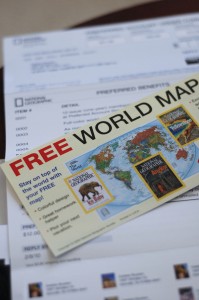 Now, THIS is a direct mail offer I can get behind.
This is a subscription offer from National Geographic and is one I think did just about everything right.
The top portion states "Preferred Account Order Form." See? No attempts to mislead me. It's telling me that I would be a preferred account (so flattering), but acknowledging that this is an order form, an offer, not something I've already expressed interest in. It tells me what the newsstand price is, what I'm being offered, and how much I'd save if I take them up on it.
Yes, there's a reply-by date to encourage me not to dawdle, but it doesn't make it sound like missing it is a black mark against my character, either.
There's a nice premium offered, too, a free world map once I pay for my subscription. I like this because it perfectly fits National Geographic–and it's something offered to everyone who accepts this offer, not just a select few whose mailmen raced to the mail truck the fastest. It's something that has some value to it, too, not a cheap throw-away kind of gift like a bumper sticker. (Not that bumper stickers are bad things, I have nothing against them, but the option of using my car for free advertising would not encourage me to subscribe to a magazine.)
The letter portion spells out the subscription benefits, but unlike the Good Housekeeping offer, it talks about the subscription benefits, not just the magazine benefits. This is one of those things that can go either way–do you want to inspire people with your product? Or with the offer? You can do either–or both–but it never hurts to explain why signing up for a subscription is a better idea than picking this up at the newsstand. (Though, for the record, the back of the letter actually spells out what the magazine offers … so they're covered either way.)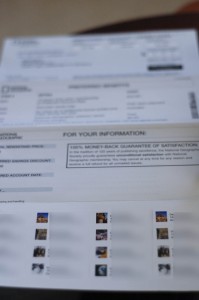 One of the other things I like? As if getting a free map and a good price wasn't enough, they're including some return address labels for me, just because. Now, return address labels are easy enough to produce and almost every charity seems to include them in their mailings these days, but I like them here. They immediately give me something with some value, even before I sign up. It makes me feel warm and fuzzy, like they're really making sure that I'm going to feel welcome as a subscriber.
Then, not for nothing, but the quality of the paper is particularly nice–glossy stock with a good finger-feel to it. I don't object to normal paper for these things, but there's something satisfying about feeling good paper when you take the offer out of the envelope.
Well done, National Geographic!