Let's take a look at another direct mail I received recently, this time for a magazine subscription. Like the last one, I consider this to be "sneaky."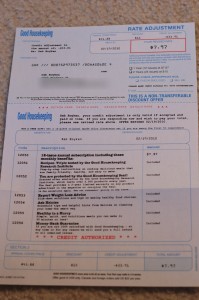 First, it looks a lot like an invoice, even though I've never subscribed to Good Housekeeping magazine–or even read it, so far as I can remember, except for flipping through Mom's copy back when I was a teenager. But it's not a magazine I've looked at in years, so I know for a fact that I do not subscribe now, nor have I expressed any interest in subscribing in the past.
So, at first glance out of the envelope, I was wondering what this was. The form section is emblazoned "Rate Adjustment" with a "status pending" that says, "Credit adjustment in the amount of -$33.91."
It doesn't state "Invoice" anywhere … which it legally cannot do, since it is not an invoice … but I think saying "Rate Adjustment" is tricky. It implies that there was a prior rate or offer to be adjusted, when in fact, all they're really doing is offering me a deal of 81% off the cover price of the magazine. (That is, off the price that it would cost me to buy the magazine at a newsstand or bookstore all year.)
Further, the letter portion tells me, "Your credit adjustment is only valid if accepted and paid on time. If you are responding now and wish to pay your total, please see revised rate above." That's kind of harsh and abrupt for an offer that's supposed to be doing me a favor, don't you think? It's not friendly and helpful ("Please act now! We can only offer this special rate for a limited time!"), it's strict and unyielding–not the kind of relationship I want to start a subscription with.
The thing that irks me about this offer is that it doesn't sound like they're offering anything. They just want something, and come across as fully expecting that I will do what they want. Obviously, price breaks are one of the main reasons a person signs up for magazine subscriptions–that, and the convenience–but sending out a subscription offer that tells me I've got a "status pending" for my "rate adjustment" implies that I've already shown interest and that I will, of course, just send in my money because they expect me to. Call me crazy, but I like my manipulation to be a little more subtle.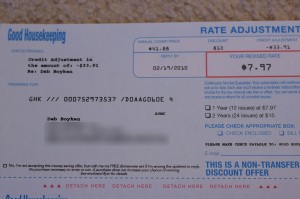 There is some added incentive to respond–a chance to win a set of free dinnerware if I'm one of the first 50 people to respond to this offer. That immediately makes me skeptical, because I'd imagine that Good Housekeeping gets hundreds or thousands of subscription responses every day, and what are the odds that I'd be in the first fifty? I'm not doubting that GH will send them out, mind you, just questioning the validity of it as a premium that so few people are going to get … and one that relies on the post office and the people opening the mail to determine the lucky fifty. Certainly it's out of my control.
The letter portion is a bulleted list of features … 12-issue annual subscription, triple-tested recipes, weight-loss advice (Do I look fat to them?), and let's not forget the Good Housekeeping Seal. (Golly!) This portion is pretty standard, nothing really to object to, since it's listing the benefits I'd get by subscribing. Although, really, it's describing the benefits to reading the magazine, not necessarily to subscribing to it (but maybe that's what they were going for).
Lastly, let's not forget the small print on the form that describes the "Continuous Service Guarantee. Your subscription will continue until you ask us to stop. Each year you'll receive a reminder notice followed by an invoice for the low renewal rate then in effect. You can cancel at any time and receive a refund for all unmailed issues." Apparently by responding to this offer, I'm agreeing to have my subscription automatically renewed each year. This is not exactly an unusual thing for a magazine to offer–it's good for the magazines to be able to count on a certain percentage of renewals, and it's convenient for subscribers to know that they won't miss anything. Except … I like to be ASKED first.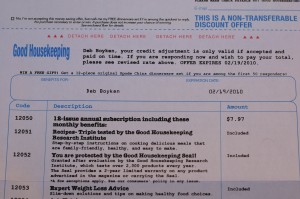 I don't think this offer is as egregious as that DVD offer last week, but still think it could be improved.
Instead of "Rate Adjustment" change the header to "Special Offer" or something that doesn't make the reader think she's forgotten an ongoing exchange.
Don't be sneaky about the fact that this is an offer for a brand-new subscription, not something that I've expressed interest in … we have no credit amount to adjust since I haven't agreed to anything yet.
If you offer a premium, make it one that all your subscribers will get–or at least, offer something to everyone with the promise of something special for some. Like, offer a free recipe-conversion booklet to everyone, with that dinnerware offer on top. But why not make it random, so people feel like they've got a fighting chance to win it?
Don't scare off your potential subscribers by being harsh on your generous offer … threatening me that this price won't be valid if I don't pay on time does not make me feel warm and fuzzy toward the magazine. Did I ask for this to show up in my mailbox? Why should I need to rush?
Don't trick me into your automatic renewal program either. I'm not saying it's a bad idea, but give me an option to check of Yes or No if I don't want to.
All in all? The mailing does not get MY Seal of Approval.