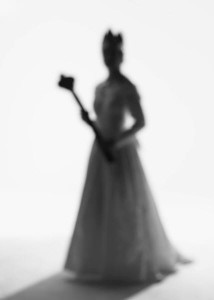 Like many girls, when I was little, I wanted to be a princess. I wanted to wear the floaty skirts.I wanted the jeweled crown–gold, of course, to go with my then-blonde hair. I wanted birds to help me get dressed in the morning, and to go to balls.I wanted to live in a romantic (though no doubt drafty) castle.
In short, I wanted to be perfect.
Because, you understand, I thought princesses were perfect. Did you ever see Cinderella lose her composure? Did Snow White throw temper tantrums? Did Sleeping Beauty forget to make her bed in the morning? No, of course not. They were princesses and raised to meet a higher standard of behavior. I was convinced that, if I just had that full-skirted ball gown to wear, I would suddenly behave just like a perfect princess should.
My mother used to love when I'd pretend to be a princess. I'd sit up straight. I'd say please and thank you without prompting. My clothes would stay neat, I wouldn't fidget. And my table manners? Well, they were not only good, they were superb. I would even eat my peas one at a time because (naturally) a true princess wouldn't be so gauche as to eat them by the forkfull.
I was remembering this the other night while I was goofing off, watching episodes of The West Wing on DVD rather than settling down to write, or to do some necessary filing, or even plug away at my knitting.
A princess would never goof off.
Being responsible, as they must be, a true princess (or prince) clearly meets their obligations promptly and without hesitation. Duty comes before pleasure.
A princess is always neat.
Take a look around. Is your desk covered with papers? Are there files on the floor? Piles on the chair? This is NOT royal behavior. Whether your castle has a staff or not, there is simply no excuse to make all this extra work for whomever does the cleaning–especially if it's you. It's easier to file one or two things right now than it is to wait until you have a pile of fifty items which will take a chunk of your time.
A princess has exquisite manners.
Have you received an invitation to a ball? (Or a meeting, seminar, or even just a request for a phone call?) Naturally it is only proper behavior to respond promptly and courteously. Not all of us have a social secretary to handle these mundane chores for us, but it is rude to keep people waiting, so please respond promptly to requests for your attention.
A princess takes responsibility for her actions
As tempting as it is to blame the peasants when things go wrong, a true princess understands that her country's well-being is ultimately her responsibility.
A princess is always perfectly dressed.
A true princess would never dream of rolling out of bed and going down to the throne room in her bathrobe and slippers (exquisite though they undoubtedly are). No, she is always dressed in exactly the right attire for any occasion, with her hair neatly coiffed. She has too much respect for herself, her kingdom, and the responsibilities of her job to lounge around in sloppy clothes. I wouldn't go so far as to tell you that you should sit at your computer in stockings and heels (or a suit and tie) at 5:00 am, but show some respect for the work you do, and at least put shoes on. And brush your hair, if you can't find some helpful birds to comb it for you.
A princess always has sunshine.
The weather is always perfect when you're a princess–sunshine, happy birds tweeting, puffy white clouds dotting a blue, blue sky. Really, though, the secret is that the princess brings the sunshine with her. She loves what she does and focuses on spreading joy and understanding because strife comes too often from outside her borders–she does what she can to keep her own kingdom on the right track. This is not the same as being blind to the things that need to be fixed, but more about the certainty that things will get done.
See? Even us peons can at least act like we're royal … because inside, aren't we all?