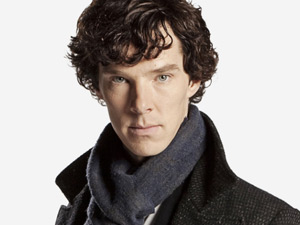 I've been watching the BBC series of "Sherlock," a modern update of the classic Holmes and Watson stories. (It's fabulous, by the way.)
One of the hallmarks of the Sherlock Holmes character has always been his relative arrogance. He has such absolute confidence in his abilities and has such a hyper-observant way of viewing the world he simply notices things the rest of us miss–but can't quite comprehend WHY we don't see what he sees.
In one of the episodes, Sherlock makes a pronouncement to a room full of blank-faced stares and, in sheer disbelief that the solution is not obvious to everyone else, asks, "What must it be like in your funny little brains?"
I don't know about you, but this is a question I've occasionally had myself. Not because I'm more brilliant than everyone else I know. (Quite the contrary!) But because nobody else THINKS in quite the same way I do, so there are things that are obvious to me that are mysteries to people I'm talking to.
We are all unique, of course, and while there are some things that are fairly obvious to everyone ("When you drop something, it falls to the floor."), there's a certain blend of brains, personality, experience, and awareness in each of us that cannot be exactly replicated.
I have a co-worker, who is a smart woman but clearly thinks in directions that are unique to her. As an example: a few years ago, one of our co-workers returned from paternity leave with a pile of photos of his newborn–you know the collection: baby with Mom, baby with Dad, baby with Grandma, and so on. Well, she looked at the pictures and asked, "How many babies were there?" She just assumed that each photo was of different kids. This is an intelligent woman, she just looks at the world in a unique way.
This is one of the things I love about writing.

If I'm writing fiction, I get the opportunity to (try to) explore the way other people think and react to situations–and sometimes the hardest part is dealing with a character fundamentally NOT like me. If being charged by a bull, I'd dive to the side and try to get out of the way, but what if my character would grab a chair and attack the bull? Clearly he doesn't think like I do, but he's going to be fun to get to know.
If I'm writing non-fiction, differently-thinking people provide a different challenge–that of getting my message across to people who may think more emotionally, less logically than I do.
Have you ever tried to explain something to a friend until you finally give up because, no matter how many times you try to say, "I turned right because it was the shortest route," they keep saying things like, "But why wouldn't you go straight?" Sometimes explaining things is the hardest thing in the world because what's crystal clear to you is obscure to the other person.
So, the trick … and it's a hard one … is to put yourself in their place.

Are you a super-genious to whom everything is clear? Slow yourself (or at least your explanations) down so the poor, normal folks can keep up.
Are you eminently logical but talking to a group beset with emotions (like, say, sleep-deprived new parents)? Force yourself to remember that all they want is to get some sleep–they don't need to know the scientific reasons for the baby crying, they just want it to STOP.
Are you good at mechanics? Excellent–you can break those "how to" instructions down into individual steps, but don't assume that your readers will know what a flange is if you don't tell them.
Are you sympathetic and deeply compassionate? Just remember that the CEOs reading your brochure pay attention to the bottom line and stories about abandoned puppies might not have the same affect as a statistic about how much stray animals cost the town.
Nobody thinks exactly like you do.
This is both your challenge and your greatest gift.

*WWSD: What would Sherlock do?