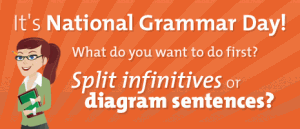 It's National Grammar Day. How are you going to celebrate?
Turn all the extra apostrophes you find into little winky emoticons.
Parrot back the word "like" whenever it gets misused in sentence ("like, you know, a Valley girl).
Carry your blue pencil with you so you can correct incorrect commas.
Say "Whom" with your most snooty, nose-up-in-the-air kind of voice everytime someones uses "who" instead.
Leave comments at all the blogs that incorrectly capitalize their post titles.
Wear your "It's/Its, Your/You're, There/Their/They're" t-shirt everywhere you go.
Mentally correct all the radio and television commentators who speak badly during their broadcasts.
Curl up in a cozy chair with your favorite grammar book
Link back to our Mangled Monday features to help out your grammatically-needy friends.
Or, do you have some other festivities planned?