So … you have your blog and/or website set up. You've got business cards and your services listed. Your writing samples are perfection. You think you're all set … and then a prospect asks you for your resume.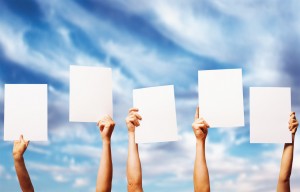 Cripes!
Sure, you've got your old, standard resume stashed away from the last time you searched for a full-time job, but … a resume for freelancing? But … how?
They have a similar purpose to traditional resumes, of course, and similar structure. They show your experience and qualifications to show a potential employer that you can do the job.
The trick is that, unlike more traditional resumes, freelancers don't have steady jobs. You can't list every clip you've ever had, or every client.
So, what do you need?
Contact Information.
It should be obvious–like any resume, you want potential employers to have no trouble finding you if they want to hire you. Put your name, address, phone, email, and website right at the top.
Objective.
What kind of job are you looking for? These used to be mandatory for resumes, but some people consider putting an objective on a resume to be old-hat. Every job is different, after all. How can you make one statement that will suit all possibilities without sounding ridiculously generic? ("I am looking for a job to fulfill my potential as a writer." Ugh.) I'll just make two observations, here. One, in our digital age, it's easy to customize your objective for every job you want, and two, if space becomes an issue, you don't really need it. It's nice enough to have it, but unlike some of the other criteria, it won't be missed.
Types of Writing.
Not quite the same as the Objective–this is your chance to specify the kinds of writing you do. Webpages, SEO articles, brochures, White Papers, Ad copy, Articles. Things like that. Also any specializing. If you have a niche, mention it here.
Work Experience.
You can address this in different ways, depending on your breadth of experience. You can list specific clips. You can list top clients. You can list some of your more successful projects. Everyone has a different levels of expertise. If you've been freelancing for years, you can pick and choose some of your best work to highlight. If you're just starting, you'll have fewer "scores," so you might want to generalize a bit more. Hopefully, though, you have at least something to list!
Salaried Jobs.
If you're lucky, your 9-to-5 jobs have some impact on your freelancing credentials … but maybe they won't. Nevertheless, it doesn't hurt to show that you've put in your time and responsibly held down a steady job for years at a time. True, some jobs might shine less brightly on a resume (working the fryer at McDonalds, for example), but some can prove that you have expertise in the area you claim. Did you work on a horse farm for eight years before branching out into writing about horses? Yes, that definitely qualifies as related work experience.
Achievements, Awards, Assorted Acclaim, if any.
If you have a horn to toot, this is the time. Do I really need to say more?
Education.
This is another area where, if you've got it, show it. You might not think your Bachelor's Degree in Renaissance History directly impacts your current career at writing case studies for Fortune 500 companies, but the fact that you successfully completed your college degree still counts as an accomplishment. On the other hand, if you dropped out of high school so you could devote yourself to your writing … well, that's fantastic if it's working for you, but you might still want to avoid drawing attention to the fact … at least not until the actual interview, huh?
Writing Samples/Links.
Your resume, of course, can only say so much about you. Facts on a page, nothing more. You will absolutely want to take this opportunity to show off some of your work to a potential employer.  If you're handing over the resume in person, you will naturally be providing some hard-copy samples, but still … put some links to your online writing samples on the resume. (You DO have a website, don't you?) Even just one link to your website–which will have the "Writing Samples" page easy to spot on the front page–is better than nothing at all.
Hard copy or Email?
Depending on the job, you will probably be sharing your resume in two possible ways. Hard copy, or email.
If it's  hard copy … if you're mailing or hand-delivering a printed version on paper to a real person … make sure it looks professional. Use good quality paper, the high-rag stuff that feels substantial to your fingertips. Keep the paper neutral. White. Maybe beige, maybe pale gray, but nothing else, nothing too creative. And the ink should be dark. Black ink, ideally. Don't mess with navy or brown … but if you do, make sure it's easy to read. Eyestrain is not going to endear you to your prospects.
Email on the other hand, opens some other options. You can send your resume as a Word document, a pdf, or as text in an email. Often, a prospect will have preferences as to which they prefer, but as a rule, I prefer to stick to basic email. If you send an attachment, the email could be stopped by spam filters. It could fill up the mailbox and irritate the recipient. If your prospect is particularly busy, they might not bother to go through the extra steps to open an attachment–whereas if your resume is right there, in the text of the email, you're good to go.
Lastly, your resume should fit on one page. Yes, some resumes go to two pages, but as a rule, they should fit on one page, one side so they can be consumed at a glance. This rule applies to electronically-transmitted resumes, too. If the recipient chooses to print it, it should still fit on one page.
There, see? Simple!
Anything I missed?