Well, you blink, and suddenly a week has gone by!
So, continuing in the line started by my series of "linguist vs. grammarian," let me pose this question:
Why do so many so-called grammar books actually focus more on punctuation than on actual grammar?
They tell you the correct way to use commas, where the period should go in a quotation (inside the quotes in the U.S., outside in Britain). When to use an apostrophe. The proper use of an exclamation point. All things that are good, worthy, and useful. No complaints at all. In fact, I've talked about all of these things myself at some point or another.
The thing is, though, that these things aren't actually grammar.
When I think of "grammar," I think of things like nouns and verbs being in agreement with each other (plural-plural or single-single). I think of the distinction between adverbs and adjectives. Clauses, both dependent and independent. Prepositional phrases. The nuances of various verb tenses. The cogs and wheels that make a sentence a sentence and not just a jumble of words.
I'm not saying that these elements are never touched on by the assorted grammar "experts" who are out there, but as a rule, they get left out in the cold while we explore the complicated lives of hyphens and dashes.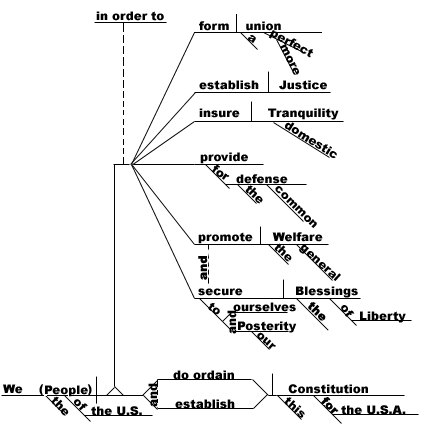 Who else remembers diagramming sentences in school? Anyone?
Looks pretty complicated, doesn't it? (Image borrowed from here.)
That's the point–this grammar thing gets tricky!
It's too complicated for us normal people (i.e., not linguists), and it's a lot to expect a person who just wants to sound reasonably intelligent to be able to interpret. How often do you hear someone say something like "Between you and I" because they think it sounds "right"? And, while you might be able to explain to them why it's not, well, it gets complicated. You have to go into the whole Subject/Object thing, and explain prepositions … who has the time?
At least half the books I find shelved under "Grammar" at the local bookstore are really usage guides rather than grammar books.  But, if you're going to write a book to help people write more clearly, shouldn't you be addressing the foundations as well as the window dressing? Because, as helpful as punctuation is, it's not as vital as the actual words–it just helps to keep them well-behaved.
Why do you think so many "Writing" books skip past the Grammar issue?
Laziness? An attempt to simply help people to write more better without worrying about the reasons why? (And yes, "more better" was on purpose.) Lack of space?
Or maybe it's because the writers of these books are as shaky on the difference between a past present participle and an adjectival preposition as the rest of us?
What do you think?