I was visited by the Language Log yesterday, and it was not a friendly visit. Back in 2007, I wrote about the venerable Strunk and White grammar book, and in that post mentioned in passing that the authors were against split infinitives. Geoffrey Pullum, in his post yesterday, was apparently saddened by this since that was not, in fact, one of the rules Strunk and White insisted upon. Then he implied that I was professing admiration for a book that I hadn't actually read–or had not read carefully.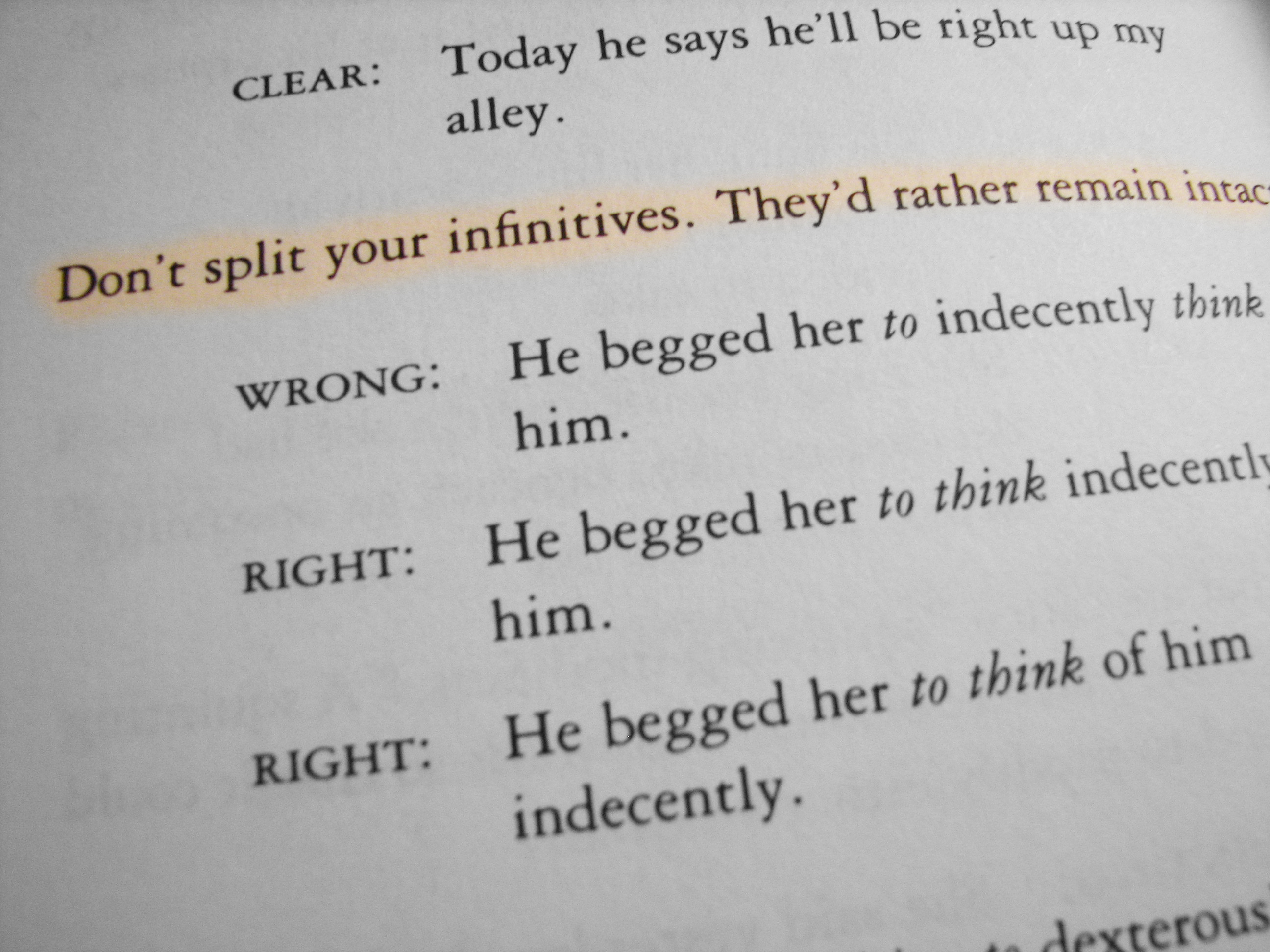 With all due respect to Mr. Pullum, I have read the book, many times. However, the last time I read it through, cover to cover, was on August 5, 1996. (Yes, I keep a reading list.) I have about 100 grammar, usage, style, and writing books, and can't always remember where I've read a certain rule–especially when it's one like split-infinitives that crops up over and over again. (One example of such, from Karen Elizabeth Gordon, is pictured to the left.)
Now, I've never claimed to be an expert on grammar. I write about it, yes, and I try to be as precise as I can be because I love the subject and don't want to pass along misinformation. You don't need a Doctorate of Writing to be able to write, though, nor do you need to be an Ansel Adams to recognize a great photograph–or to take great snapshots. I realize that blogging about grammar therefore opens me up to criticism by the experts when I make a mistake.
What irks me, though, is that he took one, small, relatively unimportant element from a review and used it as a focus for an entire post about people (in this case, me) not knowing about split infinitives. If the post had been about split infinitives (which I've also written), this would have been entirely fair, but it wasn't. This was like reading an article praising the Beatles, detailing all the reasons their music was so ground-breaking and definitive, but then tearing it apart because the author mistakenly said that "Hey Jude" was on the "Sergeant Pepper's Lonely Hearts Club Band" album. A mistake that should not have happened, but one which hardly negates the rest of the article. I might have mistakenly used an incorrect example in my list, but that doesn't mean that I was wrong about everything–just that I attributed a statement to one book that was made in (many) other books. To continue that example, it's like that imaginary writer being lambasted for not understanding that "Hey Jude" was inspired by Paul McCartney's efforts to cheer up Julian Lennon … when that had nothing to do with the original article about the Beatles as a band.
So, the lesson learned from this? Well, I could stop blogging about writing altogether, but that seems extreme. I could have left a protesting comment over on the Language Log, but the comments on that post were closed. Not to mention the lesson of the importance of taking things in context. Really, though, the best decision is just to shrug it off, right? Because that's what civilized people do. And, at least Mr. Pullum acknowledges that I am, "…truly concerned about usage and punctuation and so on." I suppose that's something.
Am I being too thin-skinned here? Or am I being too nicely magnanimous? Opinions?