I just spent the weekend immersed in the world of knit-bloggers at the NY Sheep and Wool Festival in Rhinebeck, NY. One of the highlights–other than access to a whole lot of beautiful yarn and spinning fibers–was meeting the other bloggers. Like any community, many of us read one another's blogs, exchange e-mails, and were anxious to see each other face to face, and, as always at events like these, it was the socializing that made it so much fun.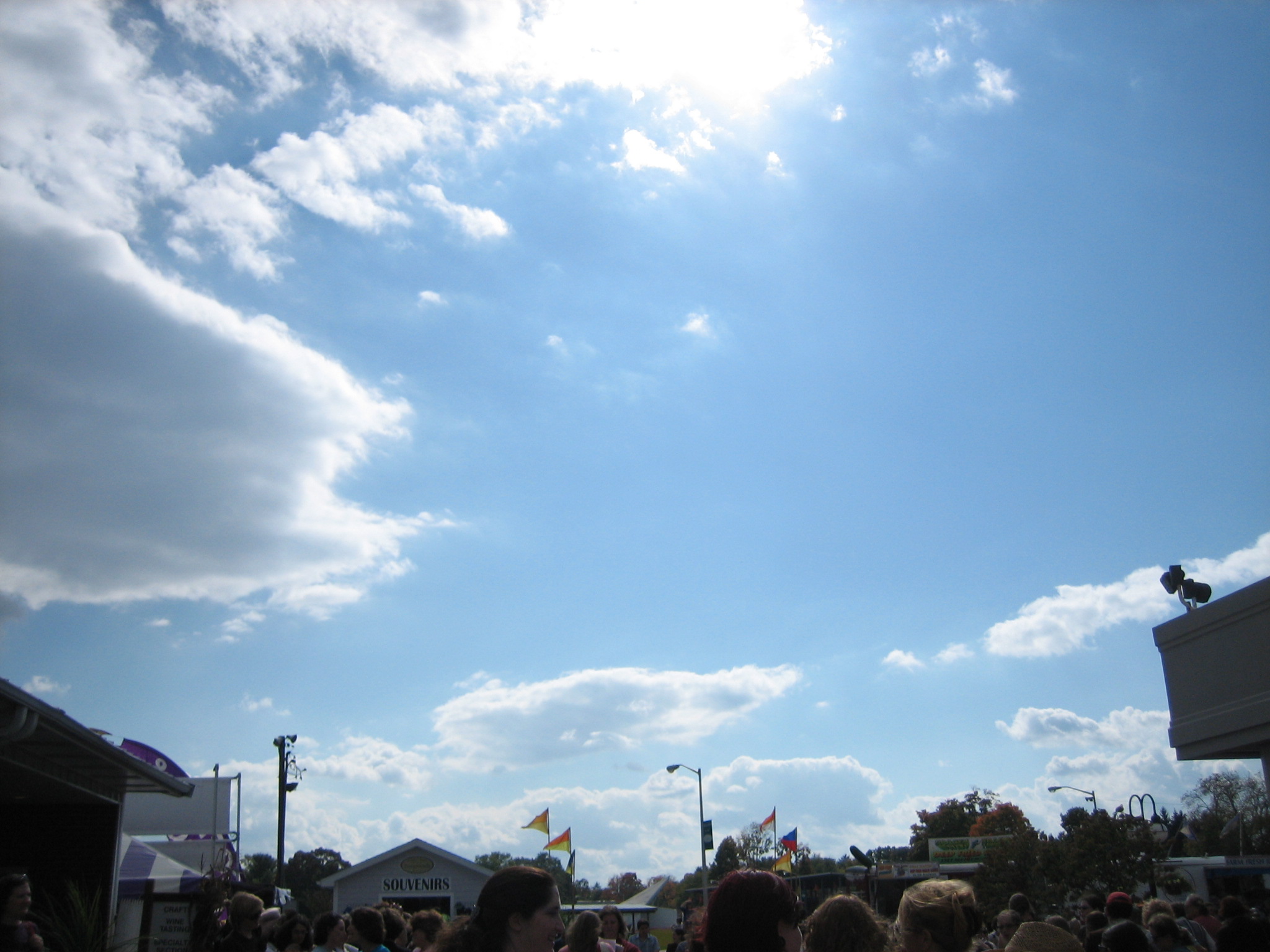 One of the unique features, though . . . and, I promise that I'm getting this post on-topic . . . is an invention called "Blogger Bingo." There were actual bingo cards made up of the names of bloggers wanting to be target "squares," and throughout the day, people ran around, approaching complete strangers, asking, "You're a square? Who are you? Are you on my card?" Mind you, the "squares" were all volunteers and every "square" was required to wear something that announced that fact, so innocent bystanders were left unaccosted, and the "approaching strangers" part wasn't quite so rude as it sounds. It was, in fact, a huge amount of fun.
But it got me thinking. I happily participated in Blogger Bingo and thoroughly enjoyed the giddy buzz it generated around the fairgrounds, but could this sort of thing possibly have happened at any other time in history? Bloggers–no matter what the topic–are a geographically far-flung group. Not all blogs are part of a true "community," of course. Some people just blog quietly about family events in their own little corner of the internet; some are blogging in niches that are too impersonal or too competitive to be able to build a communal sense of anything. Even when they can be considered a community, though–like knit-bloggers–they are an unusual one because, even with regular e-mails and the occasional in-person meeting, as a rule, bloggers don't usually SEE each other.
So, it's certainly unique (to say the least) to be able to pull a group of dozens of people who only "know" each other via the internet and let them loose in a crowd of hundreds and expect them to find each other. Then, when they do, naturally, different rules have to apply for them to be able to interact. If you know someone by exchanging e-mails and blog-comments, does that make it more or less awkward when you meet in person? Do you immediately act as if the person is a true, real friend and greet them with a hug or a warm handshake? Or do you hang back and stick to the more formal, "Nice to meet you" manners you use with a new acquaintance? Has there ever been a time where this could even happen? There have always been conventions and symposiums where people with similar interests have congregrated, and certainly friendships would be struck up and renewed over time, but blogging–and the internet in general–is such a unique medium in the way it combines real life with electronic forms of closeness.
And then, I like to talk about "Civilization" and how manners and good grammar are things that we should all pay a little more attention to, and then something like this happens. I've heard that there are "old-timers" at this festival who hate the bloggers that come because they're (supposedly) rowdy and pushy and rude. They'd like it to go back to the older, quieter days when knitters were more . . . well, sane . . . despite the fact that the bloggers and their friends are spending lots of money and have made this festival immensely more profitable. So, is this giddy craziness a step forward? Or backward? A sign of encroaching selfish behavior, with the bloggers not caring whose booth they block while they squeal with delight? A symbol of the growing laxity in anything overly formal (like, say, spelling conventions)? Or is the sense of community more important? It's hard to see such happy enthusiasm as a bad thing, but what if it is?
And, if it is a bad sign of encroaching selfishness, what does it say about me when I enjoyed it so much? Darn, I hate being a hypocrite…. (grin)