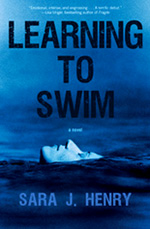 Welcome, Sara! I'm so excited to have you here—not least because I've been looking forward to your book for months, and I'm delighted for your sake that it's finally here.
Q: If I'm this excited, how must you be feeling about your first book being published? Are you going to haunt your local bookstore on publication day? (February 22nd)
A: Nope, I'm going to be in New York, getting ready to launch at Partners & Crime in Greenwich Village on Feb. 23! (Anyone in New York, come on down.)
Q: The advance press has been almost overwhelmingly on the "we love it" side—does this make you feel all warm and fuzzy inside, or is it somehow intimidating?
A: It is an indescribably odd feeling.
Q: How do you describe your book when people ask?
A: I see agents who emphasize learning to "pitch" and conferences with "pitch sessions" and I can tell you if my career depended on me pitching my book to someone, I'd be in trouble. Once a writer asked me what my logline was and I looked blankly at Janet Reid (the beloved Query Shark agent) sitting beside me, and she, having read the book a year earlier, promptly impressed the heck out of me by rattling off a cogent and coherent description. If I absolutely had to, I would mumble something about a woman on a big ferry on a huge lake seeing a small boy plummet off a deck of the opposite ferry, rescuing him, and discovering he speaks only French and was thrown off the ferry to drown. But honestly, Janet did it much better.
Q: Your main character, Troy Chance, is wonderful—independent, athletic, puzzle-solving—how much is she like you?
A: See, this is the question I can't answer, because if I say she's a lot like me, it seems I don't have enough imagination to create a main character out of thin air. But if I say she isn't at all like me – I'm lying.
Q: Was Troy your favorite character to write?
A: Oddly, I think Jameson was. He was the character who sprang fully formed on the page, and said just what he wanted to say when he said it. I seemed to have very little to do with it.
Q: I was impressed with how well Troy handles speaking French to a frightened little boy. (I'm guessing her high school was better at teaching it than mine was, or that she worked harder at it.) How well do you speak French?
A: Realistically, Troy's French would have been clumsier (although she had been practicing with those Pimsleur CDs, which are marvelous), but the problem with writing faulty French is that readers who understand French will deluge you with emails complaining about mistakes. So while Troy may not have idioms right, her French is reasonably accurate. And I speak enough to bumble around France.
Q: Do you have a favorite scene or chapter in the book? One that was the most fun to write, maybe?
A: Yes, probably two – they both give me chills whenever I read them. Which I know seems odd, considering I wrote them. (When readers hit them, they'll know: near the ends of Part 1 and Part 3.)
Q: One of the (stellar) blurbs at Amazon.com refers to this as "the first in a projected series." Does that mean we'll get more of Troy's story? Or is your next book about something else altogether?
A: It's a series, for sure – I'm finishing the sequel now, and have mentally roughed out books 3 and 4.
Q: I pretty much read the entire book in one, big gulp. As a writer, which do you prefer—a reader who devours the whole thing at once, or a reader who takes her time and savors every hard-written word? (And, no cheating and saying you're happy just to have readers.)
A: I honestly don't care how people like to read – of course it's nice to hear back quickly from someone whom I know read the book.
Q: And the follow-up—when you read, which extreme do you lean toward? Devouring or savoring?
A: I read fast, even when I read slowly. My father showed me the basics of speed reading when I was small. I suppose I devour and savor at the same time.
Q: In general, what kind of books do you best like to read? Favorite authors? (I'm always looking for recommendations.)
A: I like books with realistic inner dialogue and strong characterization, and I tend to lean toward somewhat quirky books. Two favorites this year are by personal friends: A.S. King and Reed Farrel Coleman, PLEASE IGNORE VERA DIETZ and INNOCENT MONSTER. I adored THE MEMORY OF RUNNING by Ron McLarty; I recently read and loved FALLING UNDER by Danielle Younge-Ullman; I'm mad about the new series by Jodi Compton, who shares an agent with me (clearly my agent has wonderful taste) and a book called BENIGHTED by Kit Whitfield, and I read everything by my Australian friend Michael Robotham. Oh, and Daniel Woodrell, who is simply brilliant. Start with WINTER'S BONE, and don't stop.
Q: According to the book jacket, you've had a variety of different kinds of jobs. What has been the most interesting job you've had—and would you ever want to go back to it?
A: I loved being a sports editor. I did everything: interview Gordie Howe, photograph community softball games, watch Mike Tyson fight, cover Olympic kayakers, freeze my rear end off at ski jump events. What I loved most was the passion of the athletes and the community spirit of these small towns – but I'd never go back: it was exhausting and round-the-clock work. If I had time, I'd still be a bicycle mechanic part time – I do love working on bicycles.
Q: Your favorite part about being a writer?
A: Not having to sit in an office 9 to 5 all day or wear decent clothes.
Q: I love your living-in-Vermont stories on your blog. What's your favorite part of living there? Least favorite?
A: My favorite part is probably that I can wear my torn overalls to the grocery store, and no one blinks – and of course going down to the river in the summer time. Least favorite is how often the power goes out – sometimes for days. I will probably always hoard food and water and batteries, and keep flashlights and lanterns scattered about, with the power company's phone number inscribed near every phone. Although I'm hoping to put in a back-up generator.
Q: Pets? My dog Chappy always loves hearing about people's pets and insisted I ask.
A: Emma, age 14, golden retriever/Lab/greyhound; Lucy, 12, Australian cattle dog/Australian shepherd; Bridget, 10, Australian cattle dog; Monty, age unknown, but maybe 6, an affectionate but somewhat OCD Newfie mix. Yes, this is far too many dogs. Yes, I think it's ridiculous to allow dogs on furniture. Unfortunately, they don't.
Q: Because I also write a knitting blog, I have to ask: Do you knit or do any kind of crafts?
A: Ha! I have a very crafty sister who can knit, crochet, weave, make jewelry – and who makes her own yarn and strips pieces of wood off trees and quills off porcupines (deceased ones only, as far as I know) to make intricate and lovely baskets. Me, I'd rather scrub a floor with a toothbrush. My dad showed me how to knit, and I like the rhythm of it and the click of the needles, but don't have the interest to actually do it (sorry). I like painting walls, and I'm an ace with a spackling knife.
Q: What's one skill you wish you had? Aeronautic ski-jumping? Perfect hair styling? Chandelier repair?
A: Wiring – I think I'd like to be able to do electrical work.
Q: What's one thing you would say to a new writer?
A: Learn to rewrite and revise.
Q: If you could have a superpower, what would it be?
A: To be able to stop people being mean to their children. Or spoiling them abysmally.
Q: Favorite breakfast food? (Hey, it's the most important meal of the day.)
A: Rice and black beans.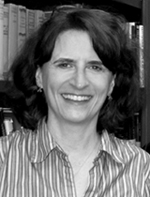 Sara J. Henry has been a soil scientist, sports writer, correspondent writing school instructor, book editor, freelance writer, magazine editor, bicycle mechanic, and webmaster. Her first novel, Learning to Swim, has been called "emotional, intense, and engrossing" by Lisa Unger and "an auspicious debut" by Daniel Woodrell. It's available for pre-order and will be in stores Feb. 22 – you can read the first chapter here.
To be eligible to win a signed copy of her book, just leave a comment on this post!
The deadline for entries will be in one week, so be sure to comment before next Wednesday!