This mailing is a solid example of, first, the importance of having your demographics straight.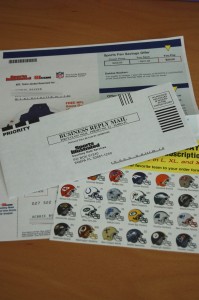 I got this mailing from Sports Illustrated, offering me a subscription. Now, since I'm not exactly a sports fan, their number one mistake is that the odds of me deciding to take a subscription are pretty slim.
Of course, that doesn't reflect on the actual quality of the mailing.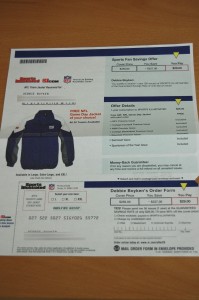 Right at the top, it says, "Sports Fan Savings Offer" and tells me what the cover price of the magazine would be, how much I could save, and what I would actually have to pay.
Then, it spells out the offer details–the subscription, a free NFL Game Day Jacket (pictured), various special issues, ending with the money-back guarantee promise in case I am ever dissatisfied.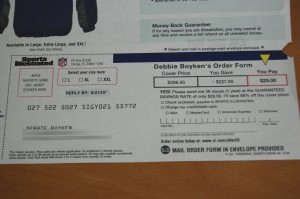 The bottom is a straight-forward order form, recapping the price and giving me space to write my credit card number before mailing it back. There's also room to specify the size jacket I'd like (choices of Large, Extra-Large, or Extra-Extra-Large only), as well as to specify the team jacket of my choice.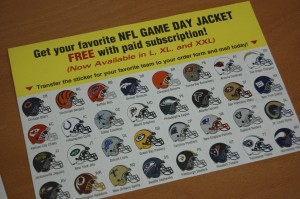 How do I specify the team? The insert that came with it was covered with stickers of different team helmets, so I can pick my favorite team for my free jacket. This is a nice little interactive touch.
Ultimately, I think this was a good mailing. It doesn't play any tricks, it offers a nice free goodie. It's personalized with my name–a touch that can be cheesy, I think, if used too much, but hey, this is MY order form.
The only bad part is … where on earth did they get the mailing list?