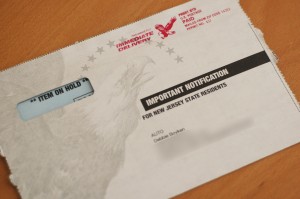 Well, this looks important. It even says so. "Important Notification for New Jersey State Residents," right there on the cover. I'd better hurry and open it!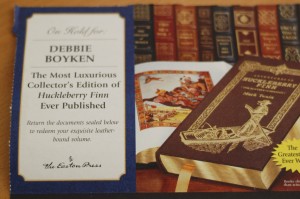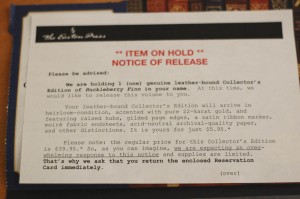 So, I hurriedly tear off the perforated sides … because that's always fun … and this is what I see. An offer for books. Apparently the rush was to tell me that they are holding a "leather-bound Collector's Edition of Huckleberry Finn" JUST for me, and for only $5.95!
A little sneaky, that. It did get me to open it, which is the point, though my very first reaction was, "It's just a direct mail piece, that's not important." So they should consider themselves lucky I read further (grin).
It turns out, these lovely people will give me the chance to buy copies of the 100 greatest books ever written. It's not a book club, they hasten to reassure me. They "simply offer the option to choose the books I wish to own."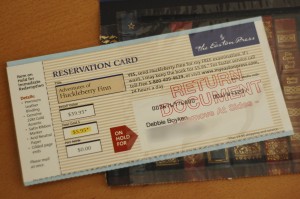 The reply card is tucked behind a piece of cellophane, with a reply envelope. A nice touch that kept all the loose pieces together when I opened the offer. No paper spilling onto the floor.
As unsolicited mailings go, this was a good one. They reassure me right away that I am under no obligation. They list the advantages of trying their books (leather binding, gilt page edging, full-color illustrations). They point out that the no-obligation price for this copy is $5.95, but also tell me the regular price for the other "greatest books" is $39.95. Which is where they lost me, incidentally. I'm not interested in spending that much money for a book, as a rule, preferring to get two or three (or four) books for that amount. But, still if the quality is there, I suppose it's not unreasonable.
The important thing is that the people who put the mailing together were up-front about the details. No sneaky stuff in the fine print, or trying to mislead me … well, other than the "important message" on the outside, but that was just to get me to open the thing, and after that they were direct and honest, so, I suppose I can't really complain.