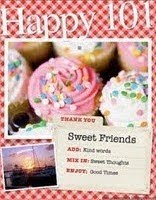 Thank you, Lillie, for awarding me the Happy 101 Award.
As she puts it:
"To accept the award, I am to list ten things that make me happy, then pass the award to five other bloggers. Our society so often focuses on the negative rather than positive, on what's wrong rather than what's right, on unhappiness rather than happiness. So I'm delighted to talk about things that make me happy and hope you take a few minutes to think about what makes you happy as well."
Sounds awesome.
So … 10 things that make me happy.
1. My dog, Chappy. Honestly, just looking at him makes me smile, and having him in the house is like having a permanent ray of sunshine.
2. The rest of my family, too. Naturally, the rest of the family is on the list, too. My parents, who are two of my best friends (hence the reason we still all live together). My sister, brother-in-law, niece, and nephew … all also put smiles on my faces. I am blessed to have a family that I like as well as love. No dreading the family holidays here!
3. Books. It's no secret that I adore books and reading. There are few things in this world that I like better than a chance to curl up on the couch with a brand-new book by a favorite author.
4. Movie Night. Every Saturday, Mom and I watch a movie together. Usually it's an old favorite, sometimes it's a new one, but just about every Saturday at 8:00 we sit down together and watch something we love.
5. Knitting and spinning. You may not know (or remember) this about me, but I knit. A lot. I spin my own yarn, too, and there's nothing quite so satisfying as running wool through your fingers and transforming it into something else. That it's often something you can wear is just a bonus.
6. Baking. I also love to putter around the kitchen, assembling goodies to munch on, and catering to my sweet tooth.
7. My home. After the financial melt-down last year and needing to leave our home of 34 years, I am truly grateful for having a nice home in a nice location, one that we've all finally–even my dog–settled into.
8. My day job. Yes, really. Not only does it make meeting the rent on this home possible, but it's in an office w ith people I've worked with for 19 years. The job, the position, has developed just for me, so it fits me like a glove. And, even better? There are occasional slow patches when I sometimes cheat and write. (But don't tell my boss!)
9. Chuck, Castle, White Collar, Leverage … Yes, I DO watch television, and these are some of my favorites–especially Chuck. (If you follow me on Twitter you already know that I talk about almost nothing else on Monday nights.) These are four of my current favorites, along with Burn Notice and the Mentalist, and they make the list because they are clever, funny, dramatic, and stuffed full of just pure entertainment.
10. You. Need I say how much I appreciate all of you fine folks? I'm grateful every day that I live in the information age where I can not only learn whatever I need to know in an instant, but that I get to socialize with all of you, too.
Now, as to the five people I want to share this award with? Bloggers who make me happy?
1. Quinn Cummings at QC Report. She's clever, she's funny, she's a delightful writer, and now she video-blogs, too. She does it all.
2. The Rejectionist because it's remarkably amusing, reading all the reasons people's books get rejected. (You know, people other than me.)
3. Liz Strauss from the Successful Blog, because it's hard to think of somebody else who spreads as many good feelings.
4. Franklin Habit from the Panopticon. Yes, it's primarily a knitting blog, but I've got to tell you, it's hilarious knitting blog, whether you knit or not.
5. Susan Gibbs from the Juniper Moon Fiber Farm, an inspiring blog from a former CBS news producer who left the Big City to become a shepherd.
Oh, and a bonus mention for my Mom, just because. (But then, I already told you that she makes me happy.)