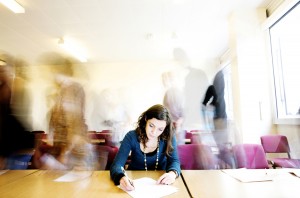 We live in a society that adores multi-tasking. We watch television while we cook. We listen to the radio (or MP3s, or DVDs, or CDs, or whatever) while we drive. We talk on the phone while we iron. We text while walking the dog. We read while we brush our teeth … (or, is that just me?) We dart back and forth between windows on our computer screens, checking emails, sending tweets, while also writing blog posts, reading message boards, and keeping an eye on the news on the television in the corner. Not to mention answering questions, watching the kids, throwing balls for the dog, running errands…
It's rare to sit and do ONE thing any more.
Even when you're doing something that should exclude other activities, it's hard to focus. When I shower each day, my mind is running over problems. You would think I'd be concentrating on the water, the soap, and not slipping and falling, but no. I watch television while I knit, rather than focusing on what my hands are doing. I check email while talking on the telephone instead of giving my full attention to the person on the other end.
Well, last night, our power went out.
Only for an hour or so, but it left me sitting in a dark room, with a candle, and the choice of straining my eyes trying to read or knit in the dim light, or opening up my netbook and writing. (I have to say, I DO love the battery power of my little netbook. It really does last for 8+ hours.)
I picked the writing, and I have to tell you. A miracle happened.
Sitting in a dark room with nothing to see except the computer screen? And, since the family's wireless router doesn't work without electricity, without the distraction of the internet? None of the usual, "That was a great couple of paragraphs, so I'll reward myself by checking my email." Nothing to distract me at ALL except to reach over and pet my dog from time to time. (The blackout spooked him, everything was so DARK.)
Well, it was amazing. I had no choice but to focus, and surprisingly, I actually remembered how.
Because the flip side of being able to DO so many things all the time, all at once, is that our collective attention span is getting shorter all the time. I used to be able to sit with a homework assignment and a notebook for at least an hour and really FOCUS on that one thing, but I've lost that. These days, the only thing that gets that level of concentration from me is, sadly, not writing, but reading. Hand me a book I haven't read before and I'll do nothing else for however many hours it takes, but anything else? Nope. Can't do it anymore. True, it's been 20 years since I've been out of school, and minds wander more as they get older. (My theory on that is that, since the legs are getting wearier, the mind decides to travel more on its own. Why should the mind AND the body be stuck in one place?)
Mostly, though, it's that pesky modern living thing that's causing the trouble. We're so linked-in, connected, and intertwined and busy ALL the time, none of us has had to focus on any one thing for more than 5 minutes in over a decade. Sure, there are still professions that require absolute focus–you don't want your brain surgeon stopping midway through a procedure to tweet about his lunch–but in general, we're losing our ability to do just one thing at a time and do it really well.
Am I the only one this bothers?
I've decided I'm going to try to focus more.
I'm going to try to forget the internet exists when I sit down to write–no checking emails between sentences!
I'm going to try to limit my time on social media distractions. They're good, they're important, they're fun, but they're time-sucks, and worse, they're attention-suckers. When part of my brain is whining, "What's happening on Twitter?" while I try to do, well, anything, that's counter-productive. So I'll try to put restrictions on that kind of stuff.
I'm going to leave the television off more often. I used to leave it off entirely unless there was something I wanted to watch, but I've gotten into the habit of putting it on in the background, which is much too distracting.
I'm going to try knitting and spinning in a quiet room for a change, just to see if that helps me regain some focus, like a training exercise. If I can relearn how to focus on the one thing I am doing, maybe it will be easier when I'm sitting in front of the computer, too.
How's that for a start? What suggestions do you have? Am I the only one struggling with this?