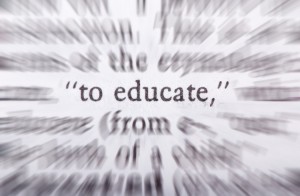 It's so easy to tell writers that words are tools and it's good to have as many in the toolbox as possible. Mixing and matching words to form the perfect sentence, after all, is what writers DO.
But what if your vocabulary is actually getting in your way?
Too Many Choices
First, if you know two dozen ways to describe "happy," how will you choose the one to use? Joyful? Tickled? Gay? Ecstatic? Merry? Pleased? Glad? Or should you just stick with Happy? These kinds of decisions are just going to slow down the writing process.
Too Confusing
It's a sad statement on education in this degenerate age, but people just aren't as familiar with the multitude of words as they used to be. (I'm not talking about YOU; I'm talking about the people who see your copy on websites or sales pieces.) If you have to write to the lowest common denominator and throw out a word like Exemplary or Premiere, you're just going to confuse people. You're better off sticking with plain vanilla words with as few syllables as possible.
Too High-Falutin'
Not everyone has your fancy education. (You graduated from high school, right?) You don't want to go rubbing those elitist SAT words in people's noses. It will just make them angry. Think to yourself, "Would a two-year old understand this?" and write accordingly.
Too Expensive
These are difficult times, budgets are tight. Why use a five-dollar word when a one-dollar word would work just as well?
Ahem.
Okay, so this may have been a little extreme. Nobody pays five dollars for a word, anymore.
No, seriously … I don't believe in "dumbing-down" my writing. I assume anyone reading my … well, reading anything, really … has a reasonable grasp of the English language. Will they have the vocabulary of an English professor? Probably not, but that doesn't mean they speak like an 8-year old, either. (In fact, eight year-olds are extraordinarily bright and absorb vocabulary like sponges.)
There is a fine line, though, between writing intelligent copy that uses the perfect word to describe the joy a customer will feel when they hold the exciting new product you're selling in their hand, and copy that uses the word "happy" because the writer either didn't know any alternatives, or assumed the readers were too stupid to know that "content" can mean both "substance" and "happily satisfied."
Never assume your readers are stupid.
They might not have the extensive vocabulary you have. They may occasionally put apostrophes in inappropriate spots. They may have quit school at 16 to get a job, but that does not, ever, mean they're simple-minded. People hate being "talked down" to and almost everyone I know has an internal radar that detects patronizing behavior. The minute your copy starts speaking. slowly. and. simply. to. be. very. clear, you're going to offend at least half of the people reading it.
It doesn't hurt anyone to learn a new word once in a while.
If "happy" really doesn't cut it in your copy and you really, truly, desperately want to say "ecstatic" instead–do it. You don't have to edit out every word that you couldn't have found in the "Dick and Jane Book of Marketing." If you want to say "supreme" instead of "best," go ahead … just remember the point is to be understood as quickly as possible.
But don't go so overboard that your meaning gets lost
I'm not saying you should start writing obscure, multi-syllabic copy though, either. It might be fun, but if you talk about the "Most advantageous promotion being presented only today," people might not mean "Best Offer–Limited Time!" The point of good copy is to make your point, and if you fail to do that, you've failed.
Keep the headlines simple.
At the very least, keep the eye-catching stuff as straight-forward as you can. You can use more elaborate prose once you've got people reading, but you need to catch their attention first.
Ultimately, your vocabulary is a TOOL. You don't need to use a sledgehammer when a regular hammer will do. You don't need the fast blades of a food processor when you just need to trim a few vegetables for a salad. You don't need a blow-torch to light the birthday candles.
In writing, as in so much else, you have to hit just the right level of force.
Because hitting people over the head is no way to convince them of anything. Keep things simple, but make them informative and interesting. Don't try to impress people with your own vocabulary–if you're a good writer, you can get your point across without having to go into debt for all those $5-words.