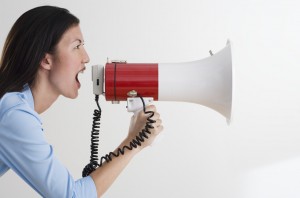 You may have heard, it's been all over the internet today– in the freelance writing world, at least–our buddy James from Men with Pens is, in fact, not a man at all. She is a single mother who was driven to writing under a pseudonym as a means for putting food on the table for her two kids.
Why the pen-name? Because it was easier to find work, easier to get the rates she deserved, by using a man's name. She (and it's going to take some time to get used to this pronoun) says that when she would apply for the same job, using both her real name and her pen-name, the name made a difference.
I was still bringing in work with the other business, the one I ran under my real name. I was still marketing it. I was still applying for jobs — sometimes for the same jobs that I applied for using my pen name.

I landed clients and got work under both names. But it was much easier to do when I used my pen name.
I find this fascinating and not a little depressing.
I was born in the mid-1960s and have lived my entire life hearing about feminism, equal rights, the NOW organization, the glass ceiling … all of it. Women earn less than men for the same work. Many jobs aren't "suited" for women because they're too technical, important, or whatever nonsense. (That works in reverse, too; just try being a male nurse or kindergarten teacher). Women's Studies was an available major when I went to college, as if women needed our own, pink, ruffly little classes so we'd feel included while not interfering with the important, male-dominated topics.
The point, though, is that I grew up believing that I could do anything I wanted to, and that, by the time I was an adult, the fact that I was a woman wouldn't matter anymore.
I can't tell you how sad I am to learn that that's not true, not even on the internet. Not even when it's a matter of writing, which can be done equally well (or badly) by men or women–writing talent is NOT gender-based.
Do I blame the talented and driven James Chartrand for doing what she had to do to support her family? Not in the least. Do I feel betrayed or deceived, by the male-persona lie, not to mention left out for not having known the secret? Well, maybe a tiny bit, in the first few minutes as I pulled myself up off the floor. (Concussion from falling to the floor will do that, you understand.) After the shock wore off, though, I was filled with nothing but admiration for the way she tricked that gender-biased system … and, a little, a wish I'd thought of it first.
But here's my question to you.
Why do you suppose that this gender bias exists? Especially in the freelance writing field?
In the multitude of comments in Copyblogger's post today, there were a couple mentions of the old New Yorker cartoon. "On the Internet, nobody knows you're a dog." If you're hiring someone to write a webpage, does it matter if the writer is a man or a woman? Maybe, perhaps, in some instances. If your site talks about tips and tricks for breastfeeding your baby, a male writer might not do as good a job as a woman–though I'm sure he could still write decent copy, with some research. And vice versa for a site on, say, motorcycles (or pick the male stereotype of your choice.)
My biggest question, I suppose, isn't why clients might assume that they could pay women less than they're paying men for the same number of written words … they probably pay them less for answering phones, making sales calls, and working in human resources, too. It's what they DO. They pay women less.
No, my biggest question is … why do we women let them? Why do we accept less pay? I can (almost) understand that in some traditionally male-dominated professions, women are still having to prove themselves. (I mean, gosh, it's only been a few decades, right?) But … writing? Women have been writing for centuries, and it's not like we spend our time swooning on the chaise these days, in between embroidery stitches. We're too busy running after our jobs, our kids, our spouses, our dogs, and our sanity. You know, just like many of the men are.
Is it because we were taught differently? Did our mothers somehow encourage us to accept less, even while telling us to reach for the stars? Or is it simply because we have not put our collective foot down and say, "Enough, already?" I've never been a radical feminist, even when it was popular. I figured I already deserved equality, and any perqs beyond that were up to me.
Thanks, James (or whatever your name is), for showing everyone that gender doesn't matter when there's a brain and a talent at work.
You know, for those people who hadn't figured it out already.
Yes, my name is Deb Boyken, and yes, I am a female writer. Proud of it, in fact.
Not only that, I'm proud that almost every comment I've seen on this topic today–mostly from the freelancing/writing community–has been supportive and generally in the "What difference does it make?" arena. At least we writers know the facts.
It's the writing that matters. Not the gender.
Now, we just have to convince the rest of the world…