I am so conflicted about my schedule, it's not even funny.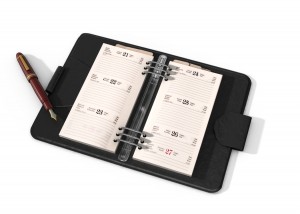 We're in the process of moving from our home of 34 years, and time-management has been forefront in my mind for weeks now, as I juggle my full-time job, my freelancing, my novel-writing, blog-writing (not that you would know that, sorry) … and, oh yes, packing.
The irony is that, the more things that I have to do, and have to do right now, the less time I have to organize myself. It's just one more item on the to-do list, right?
Well, no, not really.
When things are slow, why would you need a schedule?
I've gone for years at a time without keeping a schedule, or even writing things down on the calendar. Vacations might have been marked off with a highlighter, or, maybe, I'd scribble down the time of my next dentist appointment, but otherwise? I had no need to "schedule" anything. I had a regular job that I went to five days a week, followed by a quiet evening at home, curled up with my books or my computer monitor. The only thing time-related thing I had to worry about showing up to the office on time.
Who needed a schedule? It was simple enough, and routine enough, that the rare alterations like doctor visits were easy to keep in my head.
Shortly before that, though, it had been different. I had a datebook/calendar system in college to keep track of my classes, my assignments, when papers and exams were due—all the irregular things that make college life so varied.
So, why would I need a schedule now?
Obviously, the useful thing about a meticulous calendar schedule is that you don't have to rely on your memory to show up for appointments or meet your due-dates. They're right there in black and white. If you're using an electronic scheduler, you can even program reminders that pop up an hour, a day, or even a week in advance—all to make sure you don't forget the meeting with your most important client, or forget to send your Mom's birthday card.
Schedules can remind you of places you need to be, things you need to do.
Schedules can remind you of the things you WANT to do—things that aren't as firm as an actual appointment, but that are on your To-Do list.
Schedules can serve as a record of what you've done. Can't remember when you talked to John about that brochure project? Glance back through your schedule.
Schedules can be a place to jot down ideas as they happen—just because you'll have it with you, and not only is it important to record them when they occur, it's important to record when they happen, for future reference. ("Oh yes, I had that idea on a Thursday afternoon, right after I spilled coffee on my keyboard." You never know when information like that could be handy.)
There are two tricks, though.
Any calendar is useless if you don't fill it in.
It doesn't matter what calendar system you're using—a paper date-book organizer, an electronic schedule, a series of post-its, or a secretary (sorry, administrative assistant). If you don't add in the things you need to do, it's not going to do you any good.
I'll confess that whenever I've tried to institute an efficient calendar system, I've quickly failed, dwindling away from the routine of writing things down—just like a New Year's diet resolution wastes away to nothing by February.
Use any system you want, but write things down, preferably before they happen. Write down the "hard" events like meetings, phone calls, appointments—those are easy—but also enter the "soft" events like reminders to follow-up with a client, or to check in with a prospect.
Writing your schedule down doesn't help you if you never bother to look.
This is my other problem—even in those few weeks when I try to be as organized and efficient as possible about scheduling my time—I have a nasty habit of writing things down, but never actually looking at them.
You have to agree that that is not exactly efficient.
Part of the point of your calendar is to make sure you do what you need to do when you need to do it … not two days later when you look and say, "Crap, I forgot Mom's birthday again!"
Let your brain focus on what it does best—thinking, not remembering!
Ultimately, the better you can discipline yourself to put these life details down on paper (or into the computer), the more your brain can relax and focus on how to get things done, instead of having to concentrate on remembering that it needs to do them in the first place.
So … let's have a poll. Do you have a calendar system? What is it? Does it make your life more efficient?