You may remember Quinn Cummings from when she was a child star, paired up with Richard Dreyfuss and Marsha Mason in Goodbye Girl, or starring on Family . But these days, I know her best from her blog, The QC Report, which is funny and insightful, and always entertaining. I mean, seriously, did you know that she can write? And write well? I love the way she turns a phrase, love her sense of humor (and writing humor can be just as hard as acting it, yet she nails it every time).
Well! The exciting news is that she has a new book out, Notes from the Underwire: Adventures from my Awkward and Lovely Life.
The more exciting news? It's wonderful. My copy came on Tuesday and, well, I can't remember the last time I laughed so much at a book. As in, I was chortling with my hands over my mouth while I read it in bed, so I wouldn't wake up the rest of the house. As in, my parents were complaining about the noise. It's funny, though I should warn you a couple chapters made me sniffle instead of giggle. The blurb on the back describes her as "Erma Bombeck with an Edge" and that fits, beautifully.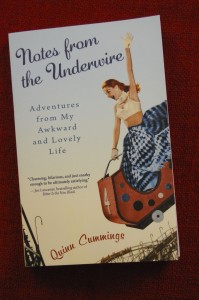 I'll give you one quote: "…Consort, on the other side [of the bed] had a more subtle approach. When we first moved in together, I offered him whichever side of the bed he wanted, and he chose. He swears he has never reconsidered his decision, but each night, once asleep, he longs for my side of the bed and he will achieve it, one patient inch at a time. Given eight hours, Consort will claim the entire bed to himself, leaving me a sliver of territory down by the footboard, at which point Lulabelle [the cat] will leap nimbly onto the bed and start inflating to the size and density of a keg of beer. Between Consort, the kid, and the cat, I was a modest nation with no natural borders staving off constant sorties from aggressive superpowers. I had become Poland."
I can't remember ever hearing the battle for bed space being compared to invasions by superpowers before, but that's where the genius lies.
The even BETTER news? Quinn … I like to call her Quinn because we're such close friends … (cough) okay, we're not really, but I'm always excited when an author stops by. It makes me giddy. Anyway, she's doing a blog tour and deigned to stop by here at Punctuality Rules to answer some questions.
So, welcome Quinn! And, here we go:

There's the trite cliche of, "What made you decide to become a writer?" (Shudder)

It's a personality quirk. When I'm in the middle of something weird or unpleasant, I get very happy because now I've got an anecdote. If I were social and gregarious, I'd just tell a few hundred friends and get the same sensation, but since I'm weird and solitary, I have to write the anecdote down instead. In short, I never decided to become a writer. As far as I'm concerned, it's just a very long phase.
Or I could ask something really obscure like, "What was it like to be on Remington Steele and roller skate in a long, velvet skirt?" (Can't help that one–it's actually one of my all-time favorite episodes from one of my all-time favorite shows, and, well, Pierce Brosnan… are his eyes really that blue in person?)
He's deathly handsome in person, he was lovely on the set, and I thank God I was a very good skater because that ramp I went down was mined with broken beer bottles and used condoms.
(Editor's Note: Thank you. I've honestly wondered that for ages!)
How about, "Are you as entertaining in real life as you are in print?"

Thank you for thinking I'm entertaining. I think Consort would tell you I'm very funny, because he loves me. I, who am only fond of me, would note that I'm very moody and a little obsessive.
What's your favorite kind of thing to write?

I wrote a couple of blogs where I translated a Latin textbook. Not surprisingly, they were kind of hard to do, but I thought they were funny. People prefer cat-stories, though.
(Editor's Note: Wow, Latin translations? Really? Color me impressed.)
When you're not chasing around after pets, family, or doing home repairs, what do you do to relax? Any hobbies?

Not exactly. I love crossword puzzles, podcasts about the economy and documentaries (Spent last night watching "Standard Operating Procedure," the Errol Morris documentary about Abu Ghraib). I just outed myself as the dullest person on earth.
Is there anything about acting that you miss? Would you ever consider acting again? Doing a cameo?
I can't imagine a circumstance under which that would happen but five years ago my imagination wouldn't have concieved of Quinn with a book deal. So there you go. Imagination, zero. Life, one.
(Editor's Note: Life is tricky that way.)

Favorite kinds of things to read? Books? Magazines? Funny? Serious? Fiction? Non-Fiction?
I'm pretty much non-fiction. Funny non-fiction, serious non-fiction, with great lashings of science.
Somebody already asked how often you're recognized from Goodbye Girl or Family … are there ever times when you EXPECT to be recognized but aren't?
Not really. It's more like any time I am recognized, I think "Really? Still?" I keep figuring that's got to be done by now.
(Editor's Note: Of course, now there's the new book and the book tour to revive interest… Which reminds me, I haven't seen Goodbye Girl in ages…)

What's your ideal way to spend a day?
Heretofore unread Sarah Vowell, David Sedaris and David Rackoff books at my side, a sunroom, an endless supply of iced tea, a child at a sleepover until midday when she comes home tired and inclined to read and hang out quietly and all three meals magically premade by someone who can actually cook.
What's the most recent book you read that you loved? (So much easier than asking about a favorite book–and, theoretically, recent enough to be easy to remember.)
I say it's all non-fiction for me, but I was given "Stories of a Marriage" by Andrew Sean Greer, which I found elegant and simple and damn impressive.

My dog would like to know what, if any, is your favorite dog breed, and how do you feel about Boykin Spaniels?
I just looked up Boykin Spaniels, because while I consider myself reasonably up to speed on spaniels, I had never seen a Boykin. I'm here to say they are my new favorite breed, being ever so handsome and noble.
(Editor's Note: Boykin Spaniels ARE the best, but I'm widely considered to be biased.)

Are you enjoying the book-tour? Are the virtual hotels between blog spots comfy? Where might people find you physically signing books?
I actually am, although my typing injury is starting to awaken and look around. The virtual-hotels are quite comfortable, but they serve a very weak cup of virtual-tea. I am doing one reading tonight (July 11th) in Pasadena, California at Vroman's Bookstore. Beyond that, nothing right now. But if that changes, the date will be noted at www.quinncummings.com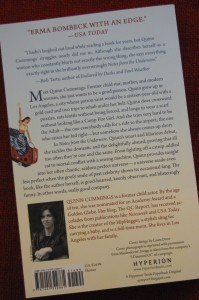 'Consort,' really? What were his parents thinking?
Consort is his nom de blog. It's the official term for the non-royal husband of a queen and since I'm the least regal person I know, I thought it had, you know, irony. For the amount of people who have asked me where his family found the name, I think I confused irony with invisibility.
(Editor's Note: I had suspected something like that…)
Summer camp obviously means a lot to you (or, your daughter, anyway). Did you go to camp yourself when you were a kid? Did you love it? Hate it?
It's not summer camp specifically; it's just that my kid really loves running around like a maniac in the summertime. Also, she likes watching me fill out camp applications. I never really went to camp, because by the time camp was an option, I was acting and the thought of spending an entire day inside, repeating the same lines over and over, sweating under hot lights, sounded much more fun than learning camp songs. It's fair to say my kid and I are very different people.
I know that, in addition to writing, you also invented the Hip Hugger baby sling. Was your daughter really that heavy when she was a baby? Or you just needed wanted to share your brilliant idea with the world?
No, it was that I had Carpal Tunnel Syndrome while pregnant and while it politely goes away within hours of giving birth, it left me with some residual nerve damage which would be aggravated by the exact motion of holding a growing baby on my hip. I wanted something cute, I had a friend with design experience…nine months after we started designing it, we had The Hiphugger in our first store. We had planned to make me a couple, nothing more, but when I wore the first prototype to a store, women kept stopping me, asking me where I got it. We still sell a few here and there, but it's not my first priority. But I am pleased to say that we designed a unique enough device that we have a patent.
Quinn, thank you so much for coming! This was FUN! Love the book … when's the next one coming out?