Write the Way You Talk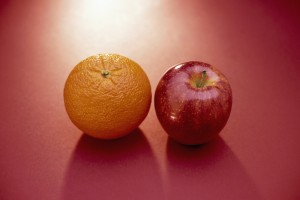 You have heard this "rule," haven't you? It's all the rage these days. Internet gurus tell their initiates that all they need to do to gain thousands of readers or sell gazillions of widgets is to simply Write the Way You Talk. They insist that a dependence on grammar rules is not as important as simply saying what you need to say, without getting bogged down by pesky grammatical details.
This is a topic that actually gets discussed in my house. When my father gets some kind of marketing piece that sounds convincing and interesting, he doesn't let a few mis-spellings or grammatical no-nos get in his way. After all, you don't need to have been an English major in college to know good business, right? A go-get-'em entrepreneur isn't going to let concern over the placement of an apostrophe slow him down when there's money to be made and people to sell. His feeling is that a person's verbal skills do not necessarily reflect their intelligence (true) or their competence (um…).
But What about the First Impression?
My mother and I, on the other hand, feel that sloppiness in the sales materials implies sloppiness in the product–or in the salesperson. That, if you can't be bothered to proof-read the copy that's supposed to convince people to buy your product, how can we be sure that the product is any better?
All in all, it brings up an interesting dichotomy.
Now, I'm the first one to admit that I may be more of a stickler than other readers (cough). But then, I like things neat, tidy, and organized. Piles of papers have to have their corners aligned. Crooked pictures drive me batty. I like things to be correct, accepting no substitutions.
Do You Have to be Correct to be Good?
I know, of course, that people and their writing are imperfect. I also fully embrace the fact that "good" writing is not necessarily the same as "correct" writing (especially in a sales pitch). Finding one typo in an email emphatically does not make me assume that the writer is an incompetent, lazy slob who dozed through English class in 7th grade. It just makes me assume the writer is human–which is preferable than one that is, say, a computer, or inhumanly perfect (because that would just be annoying, really). A breezy letter with a folksy tone wouldn't sound right in itself without contractions and a certain amount of casual grammar usage.
But when there are multiple errors, and the apostrophe for "don't" is after the "D", I really start wondering about who is writing this thing. How smart can they actually be if they cannot spell "your" correctly?
Have you ever gone to look at a house and been greeted by a whiff of cinnamon, or baking bread, and thought "Wow, this is fabulous. So welcoming! They obviously know what they're doing."
First Impressions Do Matter
It all goes back to that First Impression business. A person in a suit is going to be taken more seriously than a person in a clown costume. (Crazy, right?) A house with a tidy yard is going to look more appealing than one that looks like a junk yard. A shiny, polished, immaculate car is going to inspire more interest than one that looks like it just came out of a war zone.
You don't have to be perfect. But it never hurts to look like you know what you're doing. And if you can't string four sentences together without egregious abuses to the laws of grammar, you're not going to inspire my confidence.