Okay, Joanna and Brad are asking about "connecting words," and they don't mean conjunctions like "and" or "but." No, what they're looking for are unique, or treasured words that we've found out and about in our daily travels, words that might not be common usage, or often heard, but which struck a chord for some reason.
I love the idea of this question, but I'm having the hardest time answering it. I've got a good vocabulary, you see. Not perfect, but except for obscure medical and scientific terms, it's fairly rare for me to come across a word with which I'm not familiar. It happens, but not often. (Maybe browsing through dictionaries in my free time–not to mention a prodigious reading habit–really did pay off.) So, trying to identify a word . . . a real word . . . is tricky.
Because, well, first, I thought of " Kinnearing," which is a perfect, made-up word coined by Stephanie Pearl-McPhee, and which has taken the blog-world by storm. (Heck, I saw it mentioned on the Teaching Sells forum last month, so clearly it's spreading beyond knit-bloggers.) (Added on 12/23/07: This IS a "real" word now . . . it made the NYTimes list of Buzzwords of 2007. "To take a candid photograph surreptitiously, especially by holding the camera low and out of the line of sight. Coined in August by Stephanie Pearl-McPhee of the Yarn Harlot blog when she attempted to take a photograph during an encounter with the actor Greg Kinnear at an airport." How nifty is that?)
I've always been fond of the word "grembling" which was coined by Anne McCaffrey, as a blend of the Scots' "greeting" and "grumbling" to describe a combination of whining, wailing, and general self-pity. It's really a fabulous word, but since (to my knowledge) it's manufactured and not a "real" word, no matter how obscure, it takes too much explanation to use it. A darn shame, that.
I like the word "goleor," too . . . the Celtic word that is the root for "galore," meaning a plentitude, a plethora of things. But it, too, is so obscure (although at least real), that again, it's more or less impossible to use it. For that matter, "plethora" is a delightful word. I still remember the first place I saw it used, describing the "plethora of skirts" frothing around the ankles of native women. I've always rather liked "cogitate," too, for thinking. My best friend and I used it in high school all the time: one of us would ask a question and the other, while deciding on her answer, would say, "Think, think think. Cogitate, cogitate, cogitate."
Then, there's family slang, like "lammies" for rubber bands, and "garjib" for garbage. (The source being we children, when we were too young to pronounce things properly.) "Xausted," gets used quite a lot, still, as in "I'm so tired, I'm too exhausted even to use the entire word."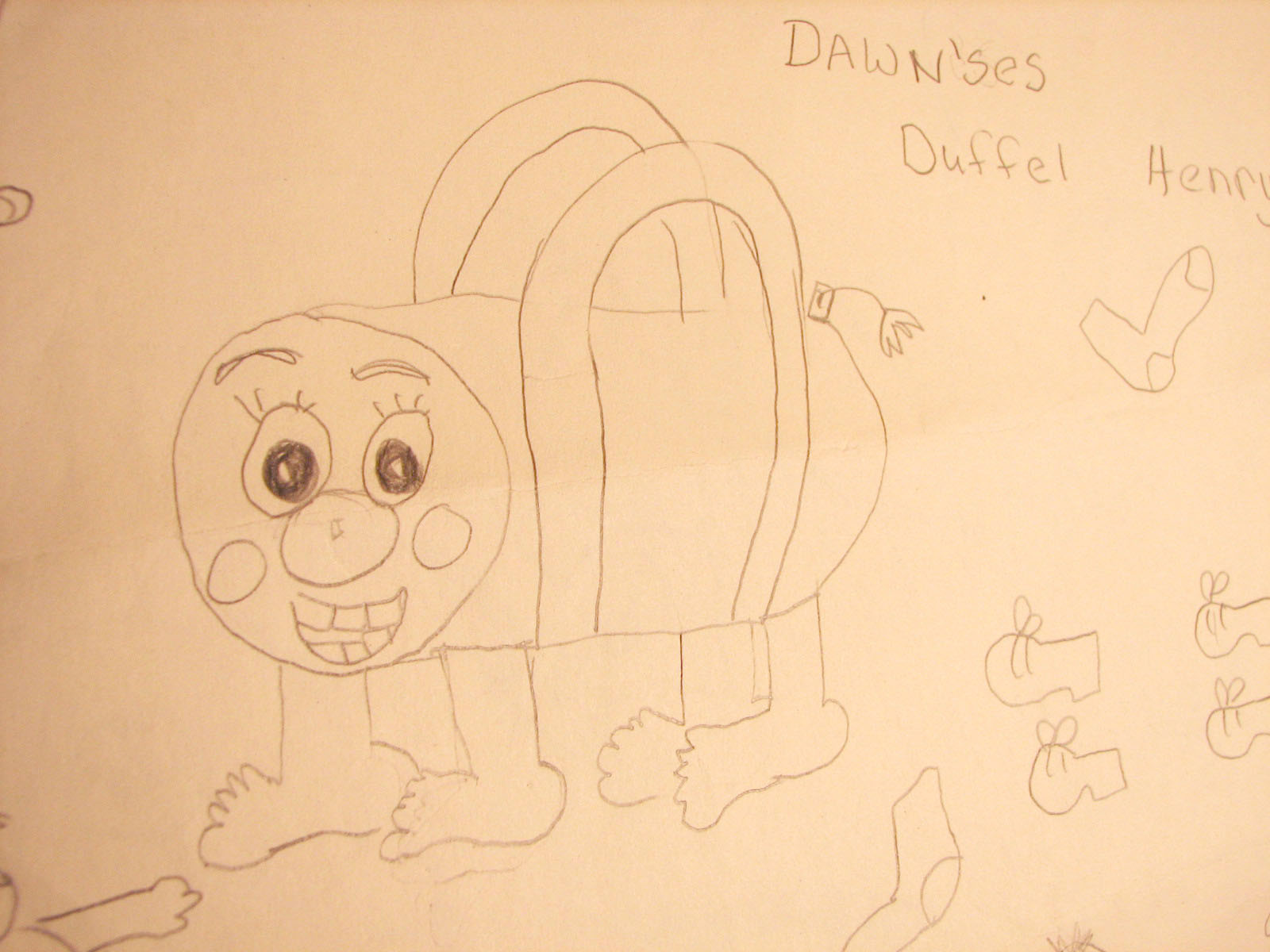 Oh yes, and then, "duffel." There's a whole mythology of duffels in my family which also dates back to my best friend and me, when we were silly teenagers. During school shopping, Mom picked me up a duffel bag to use for my books and joked, "Now you'll finally have some place to put all those duffels that have been running around." We laughed, and I repeated it to my best friend and, suddenly, the Duffel was born … invisible, duffel-bag-shaped creatures with feet but no legs, that hopped everywhere they went and said nothing but "Duffel, duf, duffel." It's gotten to the point that, even now, we can still make each other laugh by saying "duffel," and can instantaneously identify ourselves to one another by saying "duffel" instead of "hello" on the phone. (We even used to argue about which of us would have DUFFEL on our car's license plate, but since she preferred the DUFFLE spelling, we worked that out.)
Hmm. Actually, I think I'm going to have to say that my favorite connecting word has got to be Duffel. There are too many giggles and laughs tied up with that word for there to be any choice. Pity she doesn't have a blog I could link to–but I included a little of her artwork for you. Why don't you come play, too? What words have forged connections for you?