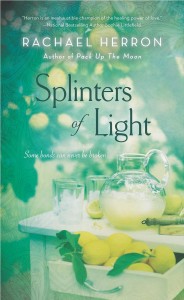 Splinters of Light by Rachael Herron
This book is a heart-breaker, make no mistake. There's absolutely nothing good about the main dilemma here–Nora, a single mother in her early 40s being diagnosed with early-onset Alzheimer's. It's a horrible subject, a miserable, tragic, awful thing … which is why I hesitated to pick it up. I'm in the middle of watching my best friend's mother disappear under the inexorable weight of Alzheimer's and it's a sensitive, difficult subject. So, how could it possibly make for a good novel that would be anything other than depressing and grim?
Well, Rachael Herron manages beautifully. I've been reading her books from the very beginning, and have watched her writing getting stronger and better all the time, but I admit I had doubts that she would be able to pull off something of this scale. A subject matter this heart-wrenching? With such important and sensitive issues and ramifications? I knew she would do a decent job, but really, it would take a master to do it the justice it deserves.
Apparently, Rachael is a master, because as heart-breaking as this is (and make no mistake, parts truly are), it's also beautiful. The reactions of Nora, her twin, and her teenage daughter to this devastating diagnosis are right on the mark, and–while I wouldn't dream of giving anything away–this ended as perfectly as such a story can. In clumsier hands, this would have been a disaster, but in fact, it's a wonderful book. I'd give it four and a half stars if I could–and the half I'm taking off is primarily because of the devastating subject matter. It's not an easy book to read, if only because you know there can be no miracle cure at the end. It's not easy, but it's excellent.
Highly recommended … though you'd do well to have tissues handy. You can get your copy at your local bookshop or at Amazon.com.