July 29th, 2009
I have a confession to make.
I am BAD at being succinct. Short. To the point. Direct. No wasted syllables.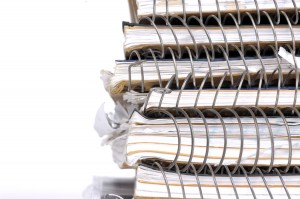 See? I couldn't even say that without extras!
Now, is this a terrible flaw? No, not really. We have a running joke in my family that my father has to strain to tie two or more sentences together when he writes, whereas Mom and I can blather on and on (and on). Melissa had a challenge once to write a 100-word sentence and I just sailed right past the goal without having to catch my breath.
(Hmm. Now that I think of it, this might be one of the reasons I talk so quickly.)
For me, first drafts of anything are always filled with lots of extra words. Adverbs, for example. I find I use "really" to excess. I'll have run on sentences, digressions, and add ons. Like this. All sorts of verbal blatherings splashed all over the page, vomited up from the dark spaces in my head as I dredge up ways to talk about whatever I'm writing about.
It's like the geyser of a new-found oil well–very exciting to have, but kind of messy until you get it under control.
In terms of creativity, work flow, and spontaneous, natural writing, this is good news. If one of the rules of writing is to write the way you speak, I'm doing just fine, and everybody knows getting the first draft on the page is the hardest part.
The problem is that a First Draft is Not Good Writing. (Please note the capitals denoting "important life rule.")
Have you ever gotten a new suit or a dress that needed tailoring? The basics are all there–the fine fabric, the basic shape, the general idea of the garment. But. It's not quite right. The sleeves are a little long. It's too broad in the shoulders, or it needs to be taken in at the waist. Hemming is almost always necessary.
Without these adjustments, you've got something that's sort of okay. You can buy a garment off the rack at the local department store and have something you can wear, but to get something that fits and flatters perfectly, you need to tweak it, adjust it, tighten up the loose spots, get rid of the excess bits, change the length. With these adjustments, you've got something fantastic.
Same thing with first drafts. You need to cut out the extra wordss, move things around, tighten the focus.
In other words, strive for being succinct. No wasted words. No unexpected detours. Be short, direct, and to the point.
You know, like me.